The Galveston College Whitecaps suffered a heartbreaking loss to the Central Alabama Community College Trojans in second-round play Thursday at the National Junior College Athletic Association Division 1 Softball Championship in St. George, Utah.
Central Alabama's Amber Parker struck out five and allowed just one unearned run on three hits en route to leading the 15th-seeded Trojans to an 8-1 victory over No. 10 Galveston.
CACC's offense also shined in the ballgame by driving home two in the first, three in the second and three more in the fifth to put the ballgame away.
Ashton Fielding paced the Trojans at the plate by going 3-for-4 with three RBIs and a run scored, while Sierra Easterwood went 1-for-4 with a second-inning three-run home run.
Amber Parker earned the win for Central Alabama . She surrendered one run on three hits over seven innings, striking out five.
Anahi Hoover led Galveston by going 2-for-3 with the Whitecaps' lone RBI of the afternoon.
Galveston pitcher Ashley Kriesel had a solid game with a total of 10 strikeouts over five and a half innings.
Central Alabama  saw the ball well, racking up seven hits in the game.  Fielding led the Trojans with three hits in four at bats.
The Whitecaps closed out the 2017-18 season with a 35-11 record. This is the first Whitecaps team to earn a spot among the top 16 teams in the nation since 2002.
Congratulations to Whitecaps sophomores and graduates who are moving on to four-year universities and to the entire team in a great season, which included being named NJCAA Region XIV champions.
Go Whitecaps!
Game Recap
Central Alabama 8, Galveston 1 (May 17, 2018 at St. George, UT)
———————————————————————-
Central Alabama….. 230 030 0 –  8  6  2      (42-20)
Galveston …….. 000 100 0 –  1  3  2      (35-11)
———————————————————————-
Pitchers: Central Alabama – Parker, Amber and Ray, Courtney; Perrin, Ashlyn. Galveston –
Kerr, Kayla; Kriesel, Ashley(2) and Allen, Caylei.
Win-Parker, Amber  Loss-Kerr, Kayla  T-2:01  A-175
HR CENTRALA – Easterwood, Sierra.
Read More
The opening game of the 2018 National Junior College Athletic Association Division I Softball Championship did not go as planned for 10th-seeded Galveston College, as the Whitecaps fought hard but came up short against seventh-seeded Eastern Arizona College at the Canyons Softball Complex in St. George, Utah.
Opening strong, the 35-10 Whitecaps had an early one-run lead before the 53-10 Gila Monsters pulled ahead to earn a 5-1 come-from-behind victory.
Eastern Arizona's Kendall Rauk allowed just one run on four hits on her way to recording a complete-game victory, while Sala Pedebone paced the Gila Monsters at the plate by going 1-for-2 with two runs driven home and a homer.
Kayla Shaw led the Whitecaps by going 2-for-3.
The Whitecaps will take on Central Alabama College today at 6 p.m. CST.   The game will  stream live on Galveston College's Facebook page.
Game Recap
Eastern Arizona 5, Galveston 1 (May 16, 2018 at St. George, Utah)
———————————————————————-
Galveston (TX)…… 100 000 0 –  1  4  0      (35-10)
Eastern Arizona….. 010 310 X –  5  5  2      (53-10)
———————————————————————-
Pitchers:
Galveston – Kriesel, Ashley; Kerr, Kayla and Allen, Caylei.
Eastern Arizona -Rauk, Kendall and Burnett, Kaila.
T-2:05  A-0
HR EASTERNA – Kotrys, Lena; Liilii, Vesi; Pedebone, Sala.
Weather: 79 degrees
Read More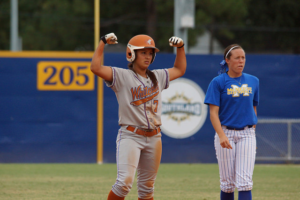 The Galveston College Whitecaps softball team will host the 2018 Galveston College Island Invitational on Friday, February 2, and Saturday, February 3, beginning at 9 a.m. each day at Lassie League Field, 2506 83rd St., Galveston, Texas.
The Whitecaps will take on Odessa College at 9 a.m. on Friday at field 2 in the first round, which will feature teams from throughout Texas and the southern U.S.
Teams in the round-robin tournament also include Blinn College, Brenham; Chipola College, Marianna, Florida; Alvin Community College; Snead State Community College, Boaz, Alabama; San Jacinto College, Pasadena; Navarro College, Corsicana; University of Houston-Victoria; Seminole State College, Seminole, Oklahoma; Lamar State College Port Arthur;  and Kilgore College.
Now entering his 20th year at Galveston College, founding softball Head Coach and Athletic Director Ken Delcambre and his assistants have amassed over 700 wins in the past 19 years.
Coach Delcambre has coached 10 NJCAA All-Americans and four NFCA All-Americans, and three of his former players represented their countries' national teams in the 2008 Olympics in Beijing, China.
In 2002, Coach Delcambre and his staff were awarded with the NFCA Regional Coaching Staff of the Year award.
Coach Delcambre says he has high expectations for his team this year.
"The returning players have made great strides since joining the team last year, and the incoming freshmen have added speed, power and command to the well-balanced sophomore group," he said. "I fully expect the team to make it to the regional tournament again this year, and I believe they are very capable of making a run for the national title."
Galveston College competes as a member of the NJCAA and sponsors two intercollegiate athletic teams, including softball and baseball.
For more information on Galveston College Athletics and the complete Whitecaps softball schedule, please visit the official website.
The complete 2018 Galveston College Island Invitational tournament schedule is as follows:
[table id=19 /]
Read More