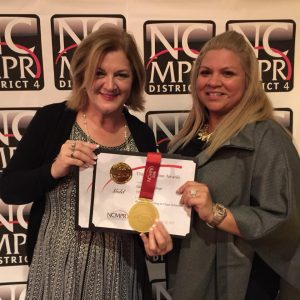 The Galveston College Public Affairs team recently won two Medallion Awards from District IV of the National Council for Marketing and Public Relations for work to promote the college's Continuing Education programs.
The college received the gold Medallion Award for best academic catalog/class schedule for the summer 2018 continuing education schedule and the bronze award for digital advertising for continuing education social media ads.
Sandi Smith, graphics specialist, and Trish Szymanski, digital communications and web services manager, accepted the awards at the 2018 Medallion Awards ceremony at the NCMPR District IV conference in Denver, Colorado.
"This recognition comes at a time when amazing things are happening at Galveston College," said Carol Langston, director of public affairs. "These awards are special acknowledgement of our efforts to promote the life-changing opportunities Galveston College offers to students and the community. I am so proud of our talented Public Affairs team members who work with our partners in the Continuing Education department to develop such creative schedules and advertising. It's a great day to be a Whitecap."
The National Council for Marketing and Public Relations is the leading professional development association exclusively serving those working in communication at two-year community and technical colleges.
The NCMPR Medallion Awards recognize outstanding achievement in design and communication at community and technical colleges in each of NCMPR's seven districts. District IV includes colleges in Arkansas, Colorado, New Mexico, Oklahoma, Texas and Wyoming.
Above: Galveston College Public Affairs team members Sandi Smith (left), graphics specialist, and Trish Szymanski, digital communications and web services manager, and accept two Medallion Awards from District IV of the National Council of Marketing and Public Relations.
Read More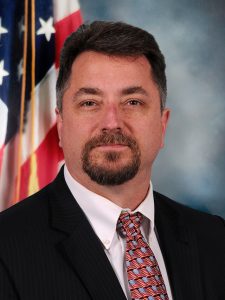 Galveston College will present "Stay Safe on Social Media," a lecture featuring FBI Computer Scientist James Morrison, on Tuesday, Nov. 6, at 7 p.m. in the Abe and Annie Seibel Foundation Wing on the Galveston College campus, 4015 Ave. Q, Galveston, Texas.
The lecture is part of college's 2018-19 lecture series, "Our World and Beyond: The Integration of Modern Technology and the Humanities."
Assigned to the Houston Division of the FBI, Morrison serves as a local technical expert to the special agents and task force officers assigned to the Houston Area Cyber Crimes Task Force. He assists in computer intrusion investigations and reverse engineers software to determine the source and purpose of malignant code. He has worked in the IT field for more than 30 years, including 20 years with the FBI.
Prior to working with the FBI, Morrison was an engineer with Lockheed Martin at Kirtland Air Force Base, New Mexico, and UNIX/database administrator with the U.S. Air Force at Falcon Air Force Base (now Shriver AFB), Colorado, and Clark Air Base, Republic of the Philippines.
Morrison holds a Bachelor of Science in computer engineering from Colorado Tech University, a Master of Arts in U.S. history from the University of New Mexico and a Master of Business Administration from the University of Phoenix, as well as other professional certifications.
The event is free and open to the public.
Read More