Galveston College will offer a new program in Massage Therapy beginning this fall.
The courses, which will be offered through the college's Continuing Education department, start Wednesday, Aug. 29, and continue through Dec. 6.
Classes are offered Mondays through Thursdays from 5:30 p.m. to 10 p.m. in Room 252 of Regents Hall on the Galveston College campus, 4015 Avenue Q, Galveston, Texas.
Fall semester courses include Massage Fundamentals I, Massage: Business Practices and Professional Ethics, and Massage: Anatomy and Physiology for Massage.
Spring semester courses include Health and Hygiene, Chair Massage, Fundamentals of Massage II, and an Internship, which will be include proper massage protocol for various populations.
Upon completion of the two-semester, 546-contact-hour program, students will be eligible to take the state board exam.
Cost per semester is $1,500. Payment plans are available.
Download an application for the Massage Therapy program at gc.edu/massage, or visit the Continuing Education department on the first floor of Moody Hall on the Galveston College campus.
For more information, call (409) 944-1344 or write to CE@gc.edu.
Read More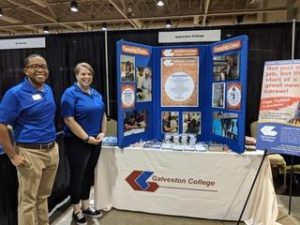 Galveston College participated in the 13th annual Oceans of Opportunity job fair hosted by Workforce Solutions and U.S. Congressman Randy Weber July 9 at the Galveston Island Convention Center at The San Luis Resort.
Attendees met with representatives from the petrochemical, light industrial, information technology, law enforcement, healthcare and hospitality industries, as well as companies offering administrative, service and other career opportunities in the greater Houston-Galveston area and beyond. Educational institutions and school districts were also well-represented at the event.
Above, Pierre Banks, assistant director of admissions and records, and Amanda Smithson, student success adviser, volunteer at the Galveston College booth. Not pictured are Dawn Uyehara, human resources specialist-employment, and Mary Powers, job placement navigator.
Below, Dr. Myles Shelton (center), president of Galveston College, joins Congressman Randy Weber, representatives from Workforce Solutions and community leaders in opening the event.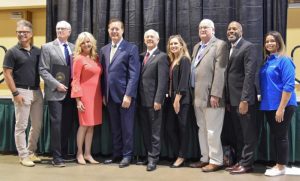 Read More