On Friday, Galveston College concluded its 50th Anniversary celebration with a nod to both the past and the future.  A historical marker from the Texas Historical Commission is now dedicated to Moody Hall, which was once the St. Mary's Orphanage before becoming the hub of activity for registration and financial aid it is today.  President Myles Shelton recognized the relevance of the past by stating, "It's important that we recognize those who had the vision of what Galveston College is today."
Officials put the final stamp on the 50th Anniversary celebration by burying a time capsule at Regents Hall courtyard, to be opened at Galveston College's 100th year anniversary in 2067.  College spokesman Joe Huff placed several items in the capsule, including photos, a Whitecaps baseball jersey, pennants, and community reports.
Read More
Pictured is the time capsule monument to be placed atop the time capsule burial site for the conclusion of Galveston College's 50th anniversary taking place with all faculty and staff at the number one community college in Texas on August 18, 2017.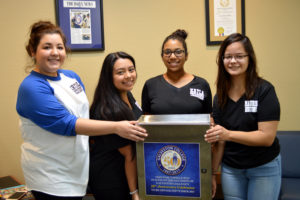 Galveston College's new Student Government Officers for 2017-2018 are pictured holding the 50th Anniversary time capsule that will be buried on the College Main Campus during General Assembly on August 18, 2017 and dug up during the 100th anniversary in 2067. Pictured from left to right are Student Government Officers Crystal Cruz, Vice-President; Jasmine Pizano, Secretary; Kayla DeLeon, Treasurer and Maurissa Pena, Historian.
Read More
Visual timeline of the history of Galveston College, from 1967 to Present
Read More